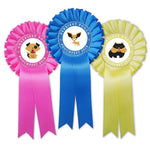 For those occasions when perhaps a more subtle type of rosette is called for, we present THE MINI!
With a diameter of just 9cm, THE MINI is a smaller, more discrete version of our classic Elizabethan Pleat 1 Tier Rosette but is made to the same high standard and quality.

Versatile and multi-purpose, these rosettes are popular as judge's badges, prizes for children's showjumping events, pet shows and club competitions.

For children, they are the perfect size for achievement and recognition awards at school events such as sports days or other school competitions, or to add to the goodie bag at birthday parties!
For adults, they are particularly suitable for wear at political and /or work-related conferences, rallies and any other events, where you wish to declare your affiliation or company name.
Order in any colour and customise with your photo, logo and event name.